CHEESE!! PHOTOGRAPHY, CONSENT AND NIGHTLIFE
Through a legal lense, the so called "Legal Notices" claiming an automatic clearance of the use of peoples' images is now a laughable practice. Before the Data Protection Act was passed in Kenya, this was a practical strategy to an extent. However, we have seen over time how many have misused and abused some of these rights granted in terms of usage of photographs and images.
Since the enactment of the Data Protection Act, which has adopted some of the major principles enacted in the General Data Protection Regulations (GDPR), how we understand data must evolve as businesses, as individuals, as educators and even as parents. The law is a dynamic tool and reacts to the changes in a society to protect its people. Data protection has challenged what was perceived to be normal to be approached with caution. Case in point photography in public places. We must admit that we are living in dangerous times, in the same way the digital space has made life easier, it has also led to more sophisticated ways in which crime can be executed. For a long time, the presumption was that one waived their image rights/ privacy rights when they appear in public spaces. Do privacy rights expire just because you are in a public space?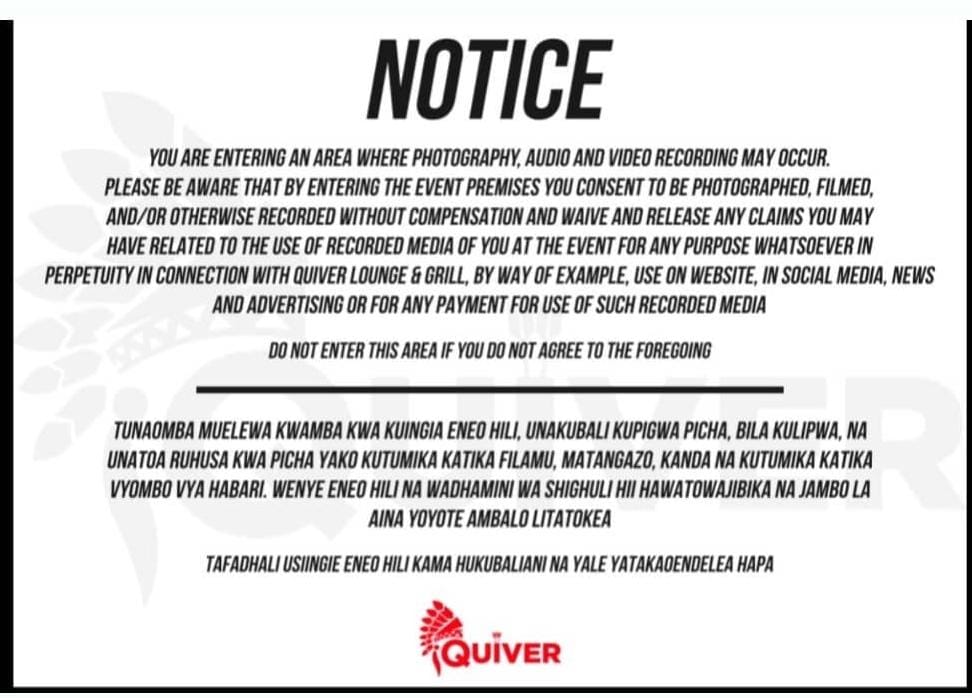 Under the Data Protection Act,consent must be given expressly and freely. In addition,this consent can be withdrwan at any time. I can agree to be photographed today and request for removal tomorrow , next week or whenever I would like. However, please note that this will vary depending on the nature of use of the data and context. Of course, if it is a commercial engagement, for example modelling for a product or endorsement of a product by an influencer, the dynamics are much different.
"consent" means any manifestation of express, unequivocal, free, specific and informed indication of the data subject's wishes by a statement or by a clear affirmative action, signifying agreement to the processing of personal data relating to the data subject;
If a club insists on taking pictures of its revellers, they will have to embrace technology to clear such rights and expressly declare their intentions on what they intend to do with the pictures.
This may likely see pre-booking by revellers online and signing of online and pop-up contracts.
In my view, this is an already cumbersome process for the sake of taking photographs in the name of marketing… not to mention signing a release form before you enter a club. How many forms can an entity print?
As we talk about privacy, the clubbing culture and photography, this takes me back to my first time to Uganda in my varsity days. I remember going into a certain club that had a strictly no photography policy and in addition, if one had a camera phone, they would have to deposit it with the security to be collected when one exists the club. This was an inspiring practice and I always wish that we would have more Kenyan clubs embrace such. However, the dollar is king and nobody wants to "inconvinence" a paying client or customer.
"data subject" means an identified or identifiable natural person who is the subject of personal data;
So, what now? Well, in light of the clubbing business, clubs must also register with the Office of the Data Protection Commissioner (ODPC) as Data Processors and Controllers. If it is not access to revellers images, they also have access to their phone numbers when they make payments as well as their names. So, you want to club at an entity that is data protection compliant. Perhaps, then the ODPC should also introduce a mechanism where an entity or establishment can prove that they are data compliant; a badge perhaps… From buildings, to clubs and all other entities that have access to our data or request for access to our data and information, compliance is a MUST. There are some handsome fines payable under the law if one is not compliant and also not to mention the civil suit that will be hanging around their head in the event of an arising case. The Data Protection Act ensures businesses and people are responsible for their actions around data. As long as your business handles personal data, it must be compliant with this legislation. And as part of compliance, you must have systems in place to ensure that the data you collect, process or control is in safe hands and all possible risks can be managed.
As a reveller, be advised that you want to be in control of how your data is used, which includes your image. You want your privacy to be respected. Nobody needs to know where you "catch drinks" or go dancing unless you want it known. The potential of how that data can be used against you is high. The risk is much higher than you can imagine. Just because the danger it is not expected or may sound impossible at the time does not mean it cannot occur. Better safe than sorry! The ODPC has also spoken. 
Trade with caution ladies and gentlemen every time you pose for a picture in a club or anywhere you go and share your data.
Also read: https://www.standardmedia.co.ke/entertainment/news/article/2001482359/click-click-ban-thin-line-between-club-photography-and-privacy-invasion
*The images are courtesy of the respective clubs as shared on their socials. Exceptions to Copyright Law apply herein for purposes of this blog post.*